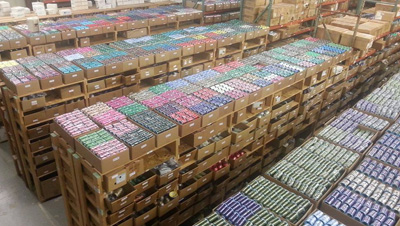 Our warehouse in Weaverville, NC - Just outside of Asheville.
The Thread Exchange specializes in the kinds of thread that are not sold in stores. Since 2005 we have served retail and commercial customers with top quality thread at great prices. Most orders received by 3 PM Eastern Time ship on the same business day. Use our Thread Information pages or just call us for help buying the right thread.

Visiting - We have an ambience-free warehouse that you can visit from 9:30 to 4:30 on Monday through Friday by appointment only until further notice. Face masks are required. We have hand sanitizer available in the front. Use of hand sanitizer is required. Please call ahead at 828-658-8670. The only items we currently have on display are our rummage bins. All other items are controlled inventory that require employee assistance.

Local Pick Up - We welcome online orders for local pick up. Your order can be picked up at our store from 9:30 to 4:30 on Monday through Friday. Please leave a note in the Customer Message field that your order is for pick up. Please proceed with an online order. Our system will require you to select a shipping method before finalizing checkout. Upon pick up, we will refund the shipping charges. We will call you when your order is ready.

Our operation is designed to handle internet orders efficiently and we are not set up to pick orders with five or more items while customers wait. Please call in advance so we can have your order available when you arrive.

We must charge sales tax on stores even if you do not live in North Carolina. Please bring sales tax exemption paperwork if you have it.