Maxi-Lock / Excell All Purpose Thread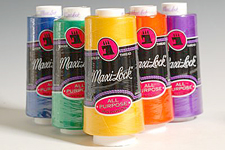 Maxi-Lock is an all purpose spun polyester thread used with sergers and sewing machines. It is mainly used for sewing garments such as shirts, slacks, tops, denim jeans, childrens wear, and jackets. It can also be used for quilting and embroidery when a matte-look is desired. Maxi-Lock is a lightweight, Tex 27, thread that comes on 3000-yard cones in 76 colors including four, hard to find, neon shades. It has a soft, cotton-like feel, great colorfastness and durability, and outstanding performance on manual and automatic multi-directional sewing machines and sergers.
It is no secret that American and Efird Excell is the Maxi-Lock commercial twin in economical 60000-yard cones. That is why we show both brands together.
| Description | Image | Price | Stock | &nbsp |
| --- | --- | --- | --- | --- |
| Maxi-Lock All Purpose Thread - Tex 27 - Black (32002) - 3000-Yard Cone | | | | |
| Excell Spun Polyester Thread - Tex 27 - Black (32002) - 6000-Yard Cone | | | | |
| Maxi-Lock All Purpose Thread - Tex 27 - Medium Navy (32030) - 3000-Yard Cone | | | | |
| Excell Spun Polyester Thread - Tex 27 - Medium Navy (32030) - 6000-Yard Cone | | | | |
| Maxi-Lock All Purpose Thread - Tex 27 - Pink (32039) - 3000-Yard Cone | | | | |
| Excell Spun Polyester Thread - Tex 27 - Pink (32039) - 6000-Yard Cone | | | | |
| Maxi-Lock All Purpose Thread - Tex 27 - Snomoon (32042) - 3000-Yard Cone | | | | |
| Maxi-Lock All Purpose Thread - Tex 27 - Blue Mist (32049) - 3000-Yard Cone | | | | |
| Maxi-Lock All Purpose Thread - Tex 27 - Silver (32057) - 3000-Yard Cone | | | | |
| Excell Spun Polyester Thread - Tex 27 - Silver (Labeled Pearl) (32057) - 6000-Yard Cone | | | | |
| Maxi-Lock All Purpose Thread - Tex 27 - Blue (32059) - 3000-Yard Cone | | | | |
| Maxi-Lock All Purpose Thread - Tex 27 - Brown (32065) - 3000-Yard Cone | | | | |
| Maxi-Lock All Purpose Thread - Tex 27 - Gold (32072) - 3000-Yard Cone | | | | |
| Maxi-Lock All Purpose Thread - Tex 27 - Emerald (32075) - 3000-Yard Cone | | | | |
| Excell Spun Polyester Thread - Tex 27 - Emerald (32075) - 6000-Yard Cone | | | | |
| Maxi-Lock All Purpose Thread - Tex 27 - Copenhagen (32080) - 3000-Yard Cone | | | | |
| Maxi-Lock All Purpose Thread - Tex 27 - Steel (32083) - 3000-Yard Cone | | | | |
| Excell Spun Polyester Thread - Tex 27 - Steel (32083) - 6000-Yard Cone | | | | |
| Maxi-Lock All Purpose Thread - Tex 27 - Dark Gray (32086) - 3000-Yard Cone | | | | |
| Excell Spun Polyester Thread - Tex 27 - Dark Gray (Labeled Leadville) (32086) - 6000-Yard Cone | | | | |
| Maxi-Lock All Purpose Thread - Tex 27 - Mother Goose (32088) - 3000-Yard Cone | | | | |
| Excell Spun Polyester Thread - Tex 27 - Mother Goose (32088) - 6000-Yard Cone | | | | |
| Maxi-Lock All Purpose Thread - Tex 27 - Beige Taupe (32093) - 3000-Yard Cone | | | | |
| Maxi-Lock All Purpose Thread - Tex 27 - Leghorn (32104) - 3000-Yard Cone | | | | |
| Maxi-Lock All Purpose Thread - Tex 27 - White (32109) - 3000-Yard Cone | | | | |
| Excell Spun Polyester Thread - Tex 27 - White (32109) - 6000-Yard Cone | | | | |
| Maxi-Lock All Purpose Thread - Tex 27 - Toboggan (32111) - 3000-Yard Cone | | | | |
| Maxi-Lock All Purpose Thread - Tex 27 - Soapstone (32117) - 3000-Yard Cone | | | | |
| Maxi-Lock All Purpose Thread - Tex 27 - Red Currant (32131) - 3000-Yard Cone | | | | |
| Maxi-Lock All Purpose Thread - Tex 27 - Graphite (32137) - 3000-Yard Cone | | | | |
| Excell Spun Polyester Thread - Tex 27 - Graphite (32137) - 6000-Yard Cone | | | | |
| Maxi-Lock All Purpose Thread - Tex 27 - Beige (32158) - 3000-Yard Cone | | | | |
| Excell Spun Polyester Thread - Tex 27 - Beige (32158) - 6000-Yard Cone | | | | |
| Maxi-Lock All Purpose Thread - Tex 27 - Olive Drab (32164) - 3000-Yard Cone | | | | |
| Maxi-Lock All Purpose Thread - Tex 27 - Medium Pink (32166) - 3000-Yard Cone | | | | |
| Maxi-Lock All Purpose Thread - Tex 27 - Seafoam (32182) - 3000-Yard Cone | | | | |
| Maxi-Lock All Purpose Thread - Tex 27 - Chicory (32193) - 3000-Yard Cone | | | | |
| Maxi-Lock All Purpose Thread - Tex 27 - Dark Turquoise (32200) - 3000-Yard Cone | | | | |
| Maxi-Lock All Purpose Thread - Tex 27 - Queens Turquoise (32210) - 3000-Yard Cone | | | | |
| Maxi-Lock All Purpose Thread - Tex 27 - Salmon Pink (32216) - 3000-Yard Cone | | | | |
| Maxi-Lock All Purpose Thread - Tex 27 - Radient Turquoise (32265) - 3000-Yard Cone | | | | |
| Maxi-Lock All Purpose Thread - Tex 27 - Churchill Green (32279) - 3000-Yard Cone | | | | |
| Maxi-Lock All Purpose Thread - Tex 27 - Artillery (32326) - 3000-Yard Cone | | | | |
| Maxi-Lock All Purpose Thread - Tex 27 - Khaki (32365) - 3000-Yard Cone | | | | |
| Excell Spun Polyester Thread - Tex 27 - Khaki (32365) - 6000-Yard Cone | | | | |
| Maxi-Lock All Purpose Thread - Tex 27 - Mint Green (32427) - 3000-Yard Cone | | | | |
| Maxi-Lock All Purpose Thread - Tex 27 - Light Gray (32432) - 3000-Yard Cone | | | | |
| Excell Spun Polyester Thread - Tex 27 - Light Gray (32432) - 6000-Yard Cone | | | | |
| Maxi-Lock All Purpose Thread - Tex 27 - Mauve Pink (32435) - 3000-Yard Cone | | | | |
| Maxi-Lock All Purpose Thread - Tex 27 - Navy (32456) - 3000-Yard Cone | | | | |
| Excell Spun Polyester Thread - Tex 27 - Navy (32456) - 6000-Yard Cone | | | | |
| Maxi-Lock All Purpose Thread - Tex 27 - Lucerne Blue (32597) - 3000-Yard Cone | | | | |
| Maxi-Lock All Purpose Thread - Tex 27 - Natural (32599) - 3000-Yard Cone | | | | |
| Maxi-Lock All Purpose Thread - Tex 27 - Pearl (32601) - 3000-Yard Cone | | | | |
| Excell Spun Polyester Thread - Tex 27 - Pearl (32601) - 6000-Yard Cone | | | | |
| Maxi-Lock All Purpose Thread - Tex 27 - Orchid (32645) - 3000-Yard Cone | | | | |
| Maxi-Lock All Purpose Thread - Tex 27 - Eggshell (32674) - 3000-Yard Cone | | | | |
| Maxi-Lock All Purpose Thread - Tex 27 - Swiss Beauty (32701) - 3000-Yard Cone | | | | |
| Maxi-Lock All Purpose Thread - Tex 27 - Dark Pink (32706) - 3000-Yard Cone | | | | |
| Maxi-Lock All Purpose Thread - Tex 27 - Neon Green (32789) - 3000-Yard Cone | | | | |
| Maxi-Lock All Purpose Thread - Tex 27 - Neon Pink (32807) - 3000-Yard Cone | | | | |
| Maxi-Lock All Purpose Thread - Tex 27 - Neon Yellow (32819) - 3000-Yard Cone | | | | |
| Excell Spun Polyester Thread - Tex 27 - Navy (32874) - 3000-Yard Cone | | | | |
| Maxi-Lock All Purpose Thread - Tex 27 - Tea Rose (32979) - 3000-Yard Cone | | | | |
| Maxi-Lock All Purpose Thread - Tex 27 - Shrimp Pink (32980) - 3000-Yard Cone | | | | |
| Maxi-Lock All Purpose Thread - Tex 27 - Blue Jean Gold (43006) - 3000-Yard Cone | | | | |
| Maxi-Lock All Purpose Thread - Tex 27 - Minature Blue (43009) - 3000-Yard Cone | | | | |
| Maxi-Lock All Purpose Thread - Tex 27 - Roseate (43025) - 3000-Yard Cone | | | | |
| Maxi-Lock All Purpose Thread - Tex 27 - Turquoise (43210) - 3000-Yard Cone | | | | |
| Maxi-Lock All Purpose Thread - Tex 27 - Hacienda (43252) - 3000-Yard Cone | | | | |
| Maxi-Lock All Purpose Thread - Tex 27 - Neon Orange (43263) - 3000-Yard Cone | | | | |
| Maxi-Lock All Purpose Thread - Tex 27 - Teal Green (43299) - 3000-Yard Cone | | | | |
| Maxi-Lock All Purpose Thread - Tex 27 - Royal Blue (43311) - 3000-Yard Cone | | | | |
| Maxi-Lock All Purpose Thread - Tex 27 - Purple (43399) - 3000-Yard Cone | | | | |
| Maxi-Lock All Purpose Thread - Tex 27 - Sunlight (43402) - 3000-Yard Cone | | | | |