The Robison-Anton Store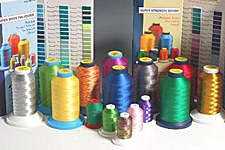 Robison-Anton is our flagship embroidery thread. We have the full line of Robison-Anton polyester, rayon, J Metallic, Moonglow, variegated and Twister Tweed embroidery threads. All told we have almost 2,000 different mini spools and king spools and sell Robison-Anton color cards at cost.
Use our buying guide, conversion charts, and Robison-Anton Catalog PDF to make shopping easier.