Salus 30 Weight Rayon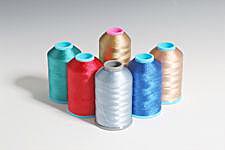 We have a huge selection of Salus 30-Weight rayon embroidery thread. 30-Weight embroidery thread is heavier than 40-Weight thread and is sewn with a 90 / 14 to 100 / 16 needle. Its heavier weight makes it ideal for embroidering large areas such as numbers on team jerseys. It is not recommended for embroidering tight patterns.
You can buy this thread for $3.00 a spool. Most colors also available as a case of 12 for $12.00.
Description
Image
Price
Stock
&nbsp

Salus - 30 Weight - Cottage Beige #2 (0303) - Rayon - 4000 Meter (4400 Yard) Spool

Salus - 30 Weight - Cottage Beige #2 (0303) - Rayon - 4000 Meter (4400 Yard) Spool - Box of 12

$1 a spool

Salus - 30 Weight - Mocha Cream (0306) - Rayon - 4000 Meter (4400 Yard) Spool

Closeout

Salus - 30 Weight - Mocha Cream (0306) - Rayon - 4000 Meter (4400 Yard) Spool - Case of 12

Closeout

Salus - 30 Weight - Teal Blue (0166) - Rayon - 4000 Meter (4400 Yard) Spool

Closeout

Salus - 30 Weight - Teal Blue (0166) - Rayon - 4000 Meter (4400 Yard) Spool - Box of 12

Closeout - $1 a spool

Salus - 30 Weight - Periwinkle (0209) - Rayon - 4000 Meter (4400 Yard) Spool

Closeout

Salus - 30 Weight - Periwinkle (0209) - Rayon - 4000 Meter (4400 Yard) Spool - Box of 12

Closeout - $1 a spool

Salus - 30 Weight - Light Creamy Blue (0211) - Rayon - 4000 Meter (4400 Yard) Spool

Closeout

Salus - 30 Weight - Light Creamy Blue (0211) - Rayon - 4000 Meter (4400 Yard) Spool - Box of 12

Closeout - $1 a spool

Salus - 30 Weight - Jay Blue (0214) - Rayon - 4000 Meter (4400 Yard) Spool

Closeout

Salus - 30 Weight - Jay Blue (0214) - Rayon - 4000 Meter (4400 Yard) Spool - Box of 12

Closeout - $1 a spool

Salus - 30 Weight - Creamy Blue (0363) - Rayon - 4000 Meter (4400 Yard) Spool

Salus - 30 Weight - Creamy Blue (0363) - Rayon - 4000 Meter (4400 Yard) Spool - Box of 12

$1 a spool

Salus - 30 Weight - Tropic Blue (0364) - Rayon - 4000 Meter (4400 Yard) Spool

Closeout

Salus - 30 Weight - Tropic Blue (0364) - Rayon - 4000 Meter (4400 Yard) Spool - Box of 12

Closeout - $1 a spool

Salus - 30 Weight - Solar Blue (0415) - Rayon - 4000 Meter (4400 Yards) Spool

Closeout

Salus - 30 Weight - Solar Blue (0415) - Rayon - 4000 Meter (4400 Yards) Spool - Box of 12

Closeout - $1 a spool

Salus - 30 Weight - Baby Blue (0521) - Rayon - 4000 Meter (4400 Yard) Spool

Closeout

Salus - 30 Weight - Baby Blue (0521) - Rayon - 4000 Meter (4400 Yard) Spool - Box of 12

Closeout - $1 a spool

Salus - 30 Weight - Blue Ribbon (0527) - Rayon - 4000 Meter (4400 Yard) Spool

Closeout

Salus - 30 Weight - Blue Ribbon (0527) - Rayon - 4000 Meter (4400 Yard) Spool - Box of 12

Closeout - $1 a spool

Salus - 30 Weight - Slate Blue (0563) - Rayon - 4000 Meter (4400 Yard) Spool

Closeout

Salus - 30 Weight - Blue Iris (0664) - Rayon - 4000 Meter (4400 Yard) Spool

Closeout

Salus - 30 Weight - Blue Iris (0664) - Rayon - 4000 Meter (4400 Yard) Spool - Box of 12

Closeout - $1 a spool

Salus - 30 Weight - Navy Blue (0667) - Rayon - 4000 Meter (4400 Yard) Spool

Closeout

Salus - 30 Weight - Fire Blue (0668) - Rayon - 4000 Meter (4400 Yard) Spool

Closeout

Salus - 30 Weight - Fire Blue (0668) - Rayon - 4000 Meter (4400 Yard) Spool - Box of 12

Closeout - $1 a spool

Salus - 30 Weight - Toast (0129) - Rayon - 4000 Meter (4400 Yard) Spool

Closeout

Salus - 30 Weight - Toast (0129) - Rayon - 4000 Meter (4400 Yard) Spool - Box of 12

Closeout - $1 a spool

Salus - 30 Weight - Coffee Bean (0131) - Rayon - 4000 Meter (4400 Yard) Spool

Closeout

Salus - 30 Weight - Coffee Bean (0131) - Rayon - 4000 Meter (4400 Yard) Spool - Box of 12

Closeout - $1 a spool

Salus - 30 Weight - Chocolate (0135) - Rayon - 4000 Meter (4400 Yard) Spool

Closeout

Salus - 30 Weight - Chocolate (0135) - Rayon - 4000 Meter (4400 Yard) Spool - Box of 12

Closeout - $1 a spool

Salus - 30 Weight - Vandyke Brown (0234) - Rayon - 4000 Meter (4400 Yard) Spool

Closeout

Salus - 30 Weight - Vandyke Brown (0234) - Rayon - 4000 Meter (4400 Yard) Spool - Box of 12

Closeout - $1 a spool

Salus - 30 Weight - Hazel (0235) - Rayon - 4000 Meter (4400 Yard) Spool

Closeout

Salus - 30 Weight - Gold Brown (0309) - Rayon - 4000 Meter (4400 Yard) Spool

Closeout

Salus - 30 Weight - Gold Brown (0309) - Rayon - 4000 Meter (4400 Yard) Spool - Box of 12

Closeout - $1 a spool

Salus - 30 Weight - Dark Rattan (0366) - Rayon - 4000 Meter (4400 Yard) Spool

Closeout

Salus - 30 Weight - Sand Dune (0367) - Rayon - 4000 Meter (4400 Yard) Spool

Closeout

Salus - 30 Weight - Sand Dune (0367) - Rayon - 4000 Meter (4400 Yard) Spool - Box of 12

Closeout - $1 a spool

Salus - 30 Weight - Dark Brown (0384) - Rayon - 4000 Meter (4400 Yard) Spool

Salus - 30 Weight - Dark Brown (0384) - Rayon - 4000 Meter (4400 Yard) Spool - Box of 12

$1 a spool

Salus - 30 Weight - Golden Tan (0399) - Rayon - 4000 Meter (4400 Yard) Spool

Closeout

Salus - 30 Weight - Golden Tan (0399) - Rayon - 4000 Meter (4400 Yard) Spool - Box of 12

Closeout - $1 a spool

Salus - 30 Weight - Earth (Light Olive) (0894) - Rayon - 4000 Meter (4400 Yard) Spool

Closeout

Salus - 30 Weight - Earth (Light Olive) (0894) - Rayon - 4000 Meter (4400 Yard) Spool - Box of 12

Closeout - $1 a spool

Salus - 30 Weight - Cool Gray #4 (0152) - Rayon - 4000 Meter (4400 Yard) Spool

Closeout

Salus - 30 Weight - Smoke (0438) - Rayon - 4000 Meter (4400 Yard) Spool

Closeout

Salus - 30 Weight - Smoke (0438) - Rayon - 4000 Meter (4400 Yard) Spool - Box of 12

Closeout - $1 a spool

Salus - 30 Weight - Storm Gray (0477) - Rayon - 4000 Meter (4400 Yard) Spool

Closeout

Salus - 30 Weight - Storm Gray (0477) - Rayon - 4000 Meter (4400 Yard) Spool - Box of 12

Closeout - $1 a spool

Salus - 30 Weight - Gray (0512) - Rayon - 4000 Meter (4400 Yard) Spool

Closeout

Salus - 30 Weight - Gray (0512) - Rayon - 4000 Meter (4400 Yard) Spool - Box of 12

Closeout - $1 a spool

Salus - 30 Weight - Saturn Gray (0646) - Rayon - 4000 Meter (4400 Yard) Spool

Closeout

Salus - 30 Weight - Saturn Gray (0646) - Rayon - 4000 Meter (4400 Yard) Spool - Box of 12

Closeout - $1 a spool

Salus - 30 Weight - Holly Green (0121) - Rayon - 4000 Meter (4400 Yard) Spool

Closeout

Salus - 30 Weight - Holly Green (0121) - Rayon - 4000 Meter (4400 Yard) Spool - Box of 12

Closeout - $1 a spool

Salus - 30 Weight - Light Mistletoe Green (0123) - Rayon - 4000 Meter (4400 Yard) Spool

Closeout

Salus - 30 Weight - Light Mistletoe Green (0123) - Rayon - 4000 Meter (4400 Yard) Spool - Box of 12

Closeout - $1 a spool

Salus - 30 Weight - Mistletoe Green (0124) - Rayon - 4000 Meter (4400 Yard) Spool

Closeout

Salus - 30 Weight - Mistletoe Green (0124) - Rayon - 4000 Meter (4400 Yard) Spool - Box of 12

Closeout - $1 a spool

Salus - 30 Weight - Dark Emerald (0276) - Rayon - 4000 Meter (4400 Yard) Spool

Salus - 30 Weight - Dark Emerald (0276) - Rayon - 4000 Meter (4400 Yard) Spool - Box of 12

$1 a spool

Salus - 30 Weight - Fleece Green (0278) - Rayon - 4000 Meter (4400 Yard) Spool

Closeout

Salus - 30 Weight - Fleece Green (0278) - Rayon - 4000 Meter (4400 Yard) Spool - Box of 12

Closeout - $1 a spool

Salus - 30 Weight - Pastoral Green (0279) - Rayon - 4000 Meter (4400 Yard) Spool

Closeout

Salus - 40 Weight - Celery (0304) - Rayon - 5000 Meter (5500 Yard) Spool

$1 a spool

Salus - 30 Weight - Deep Yellow Green (0331) - Rayon - 4000 Meter (4400 Yard) Spool

Closeout

Salus - 30 Weight - Deep Yellow Green (0331) - Rayon - 4000 Meter (4400 Yard) Spool - Box of 12

Closeout - $1 a spool

Salus - 30 Weight - Deep Green (0332) - Rayon - 4000 Meter (4400 Yard) Spool

Closeout

Salus - 30 Weight - Deep Green (0332) - Rayon - 4000 Meter (4400 Yard) Spool - Box of 12

Closeout - $1 a spool

Salus - 30 Weight - Green Bay (0338) - Rayon - 4000 Meter (4400 Yard) Spool

Closeout

Salus - 30 Weight - Green Bay (0338) - Rayon - 4000 Meter (4400 Yard) Spool - Box of 12

Closeout - $1 a spool